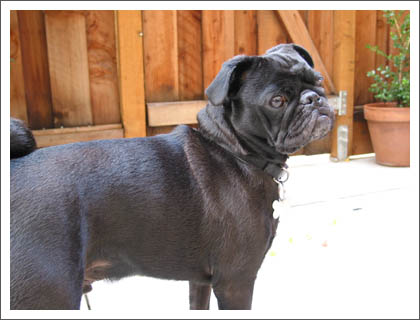 I got my ass kicked by a 15 pound black pug dog this weekend. Kicked in the sense that he dragged me all over the nighborhood at 7am, Saturday AND Sunday.
There was one good thing about the early morning drag about town. I discovered the restaurant in Japantown that used to be a pacific rim type place has gone sort of tiki/ hawaiian. The menu seems to have changed a whole lot and in the listing for their hours it reads "We are closed Mondays to worship our tiki god". They also painted the outside of the building a fantastic shade of red. It sounds interesting, so I may have to give it a try. A decent restaurant within walking distance is always a good thing.
More pictures from the pup-sitting adventure are here.