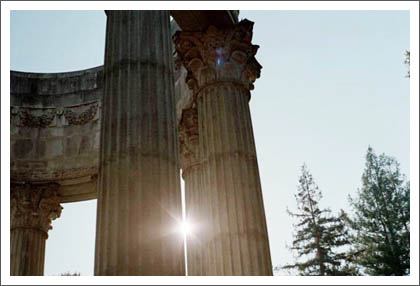 Pentax K1000 - Pulgas Water Temple
My first official bike ride (meaning somewhere other than up and down second street)...we rode over to San Pedro Square on the sidewalk, which was a relief to me. I'm still not comfortable with that whole 'sharing the road' thing.
I've realized that riding my bike to an actual destination involves more than just grabbing my keys and going. I've got to bring a lock, find a place to lock up the bike, make sure I can carry anything I need and still ride (last night I needed to bring my camp chair), and the actual riding part has a tendency to mess up my bangs.
But I'm finding that I don't mind any of that, because I had forgotten how much fun it is to ride.