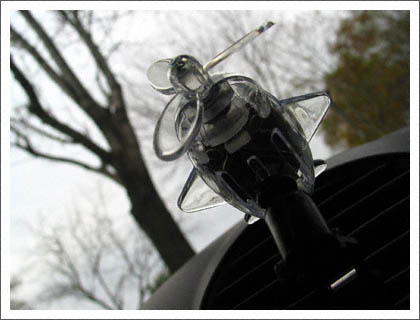 Canon Powershot G2
I have discovered two things about the little dashboard airplane tchotchke pictured above.
One, it's supposed to flash when it detects a cell phone ring. I thought this was great, as I usually listen to music too loud to hear my phone ring while I'm driving. So far, every time it's flashed, it's been for the cell phone in the car next to me.
Two, the airplane propeller spins around when I have the air vents on. I accidentally discovered that when the air is warmer, the propeller goes faster. While it is fascinating and endlessly amusing to turn the temperature knob back and forth to watch the propeller speed change, this also means I am not watching where I'm going and nearly drove off the road on my way home the other night. Someone should put a warning label on these things.