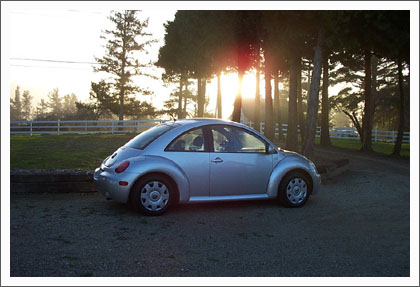 Kodak DX3500
Two years ago today, I bought my car. To honor this occasion, I've gone through the archives and collected some links to chronicle my adventures with Vivian the Beetle:
• Here's where the whole thing starts.
• How Vivian gets her name.
• And then someone crashes into me.
• I order a 1:25 scale replica of my car.
• A photo of the dog and my car.
• A photo of my car and a rainbow, almost exactly one year ago.
• I talk about the 'low fuel level' beep that still scares the heck out of me.
Proof, once again, that I'm a little too emotionally attached to my car.