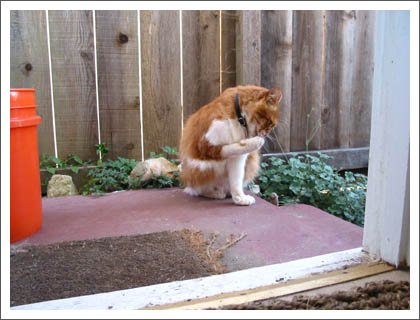 Canon Powershot G2 - Santa Cruz
As I had absolutely no plans for this holiday weekend, I dubbed it the 'weekend of trashy girl novels'. Taking a break on Saturday for a prom, sort of. Here's how it went:
Thursday night: Finish Artemis Fowl, and promptly start Running in Heels.
Friday afternoon: Finish reading Running in Heels (it was good, not as good as her fist book Getting Over It, but good.) Start reading Good In Bed.
Saturday: Spend the day in Santa Cruz, and attend the 7th anniversary party for my favorite coffee shop, which, it turns out, is prom themed. An entire day of reading lost, but very much fun had.
Sunday: Finish reading Good In Bed (it was wonderful, loved it! I laughed, I cried! Fantastic!). And now I must decide between Girl Cook (a trashy girl book with cooking involved, how can I resist!), or Behaving Like Adults (another Anna Maxted novel) as my next read. Decisions, decisions.