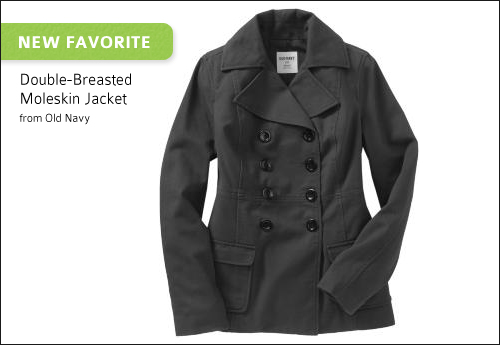 Reasons I LURVE my new jacket from Old Navy:
cotton!

patch pockets AND slant pockets! I pretty much won't buy a jacket or coat anymore unless it's got slant pockets

it's lined! So it doesn't push the sleeves of my 3/4 length cardigans up to my elbows every time I put it on

that perfect in between length - not too short and not too long

double-breasted! (a style that seems to work best for me)

just enough room that I can layer a hoodie underneath
The only slightly disappointing thing about this jacket is that it's not really the same color as the photo. When I took it out of the box last night, it was more of an inky bluish black. Though looking at it now in my office, it does appear to be more of a dark grey. Doesn't matter, I'm going to wear it regardless of which shade of greyish blue it decides to be.
I'd also like to note that nowhere in the description does it mention the slant pockets, and I almost didn't order it because of that. So glad I gave it a chance!
I kind of wish it came in more colors, because I'd probably order another one (wouldn't it be great in yellow or teal?). Yay for new jackets!